Things To Do
INFORMATION on AREA ACTIVITIES
---
Ottawa, Illinois – www.pickusottawail.com
Utica, Illinois – www.utica-il.com
Heritage Corridor Convention and Visitors Bureau
(800) 926-2262 www.heritagecorridorcvb.com
Dining Information
www.experienceottawa.com/visitors_dining.cfm
---
Starved Rock State Park
Stay at Fox River Bed and Breakfast for your perfect Illinois vacation, located on the Fox River, just minutes from Starved Rock!
Starved Rock State Park features 2,630 beautiful acres of thick forests, 18 lush canyons and sparkling waterfalls! Breath-taking views from wooded bluffs overlooking the picturesque Illinois River. Miles and miles of beautiful hiking trails!
Visit the Events and Activities Calendar above for current information on Starved Rock State Park activities, or visit www.starvedrocklodge.com

Starved Rock Ice Falls in the Winter!
You might even see this little guy.....
There is abundant wildlife within the thick forests between
Starved Rock and Fox River Bed and Breakfast
!

Fall at Starved Rock

Spring at Starved Rock

Eagle Watching is Another Get-Back-to-Nature Winter Event at Starved Rock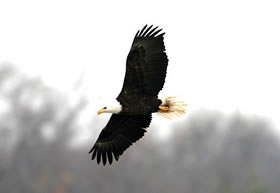 There is a lot of fun close to Fox River Bed and Breakfast!
---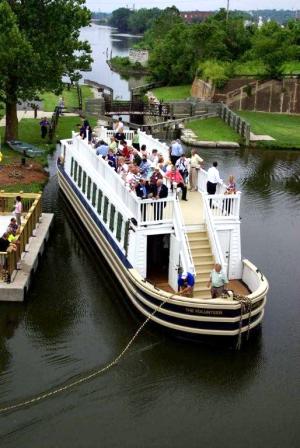 Mule-Pulled Canal Boat Rides
Lasalle Canal Boat and Lock 16 Visitor's Center
LaSalle, Illinois
(10 minutes from Starved Rock)
Step back in time and spend 60 minutes riding through the 19th Century on a mule-pulled replica canal boat! While you are there, meet Larry and Moe, our beautiful mules! Hear stories of the Illinois pioneer days from the crew. ~Reservations recommended ~
May ~ October
Tuesday ~ Saturday
10:30am, 1:00pm, 2:30pm
Call for daily schedule and reservations ~ 815.220.1848
Tickets available the day of the cruise
Accessible dock and boat
Adults $14.00
Seniors (65+) $12.00
Youth (16 and under) $8.00
Children (under 3) Free
Special Group Rates for 20 or more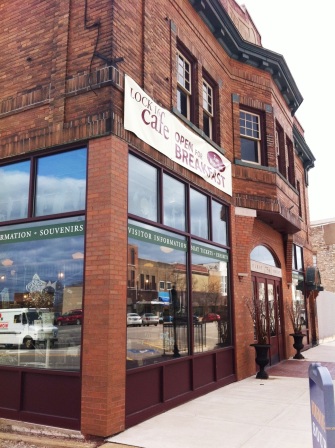 Lock 16 Visitor's Center
Tickets for the LaSalle Canal Boat may be purchased here. The Lock 16 Visitor's Center features a cafe, a gift shop, and canal exhibits.
Larry and Moe Special ~
Friday's and Saturdays
Combine breakfast or lunch at Lock 16 Cafe with a boat ride and save $2.00!
For special events, boat, facility and meeting room rentals, call 815.220.1848 or visit www.lasallecanalboat.org
---
Matthiessen State Park
Box 509
Utica, IL 61373
815.667.4868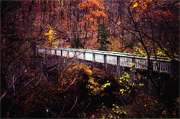 Canyons, streams, prairie and forest, 1,938 pristine acres combine to delight visitors at Matthiessen State Park! Located in central LaSalle County, approximately four miles south of Utica and three miles east of Oglesby, Matthiessen is a paradise for those interested in geology as well as recreation. Visitors can expect to see beautiful rock formations in addition to unusual and abundant vegetation and wildlife. All of this, along with park and picnic facilities, make Matthiessen State Park a popular choice for a special outing. Only 30 minutes from Fox River Bed and Breakfast!
Cross-Country Skiing is available at Matthiessen State Park December through March. Ski, pole, and shoe rentals are $12.50. No credit cards ~ cash only. Saturday and Sunday from 9am until 4pm. Call the park for the latest snow conditions. Outside bathrooms.
Horseback riding is available April through October on Route 71, 1/2 mile west of Route 178. For more information, contact Starved Rock Stables at 815-667-3026.
---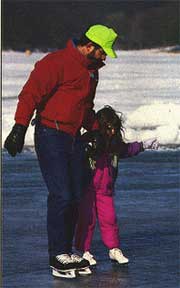 Silver Springs State Park
Yorkville, Illinois
A pool of clear bubbling water which sparkles like silver on sunny days provides the basis for the name " Silver Springs. " Visitors marvel at the bordering beds of watercress. Majestic Oaks and prairie grasslands provide a panorama of natural beauty to park visitors... Picnicking, fishing, and hiking are popular pastimes in summer, with ice fishing, sledding, ice skating and cross-country ski trails available for the winter sports lover.
---
Starved Rock Adventures
P. O. Box 2261
Ottawa, Illinois 61350
815-434.9200

Starved Rock Adventures offers houseboat rental and vacation as well as lodging with harbor-side villas and suites. In addition to the overnight accommodations, they offer a variety of watercraft including pontoon boats, speed boats and fishing boats. Whatever your inclination, contact their vacation planners to schedule your vacation get-away today!
---
C & M Canoe Rental
3401 E. 2062nd Road
Ottawa, Illinois 61350
815. 434.6690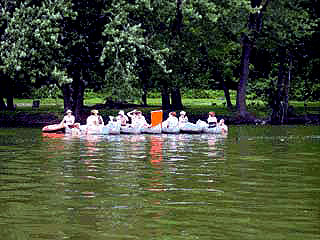 Have a blast canoeing on the Fox River with C & M Canoe Rental. The Fox River is very scenic and fun to canoe! You, your family and friends can enjoy canoeing, fishing, and swimming. Visit their website below for updated information.

Open Spring through Fall - 7 days a week. Excursions leaving every hour ~ Monday through Friday: 10am - 2pm. Saturday and Sundays: 9am - 3pm. Must be back before dark.
One-Day Trips
7 Mile - $45.00 (2 to 4 hours) Limit two persons per canoe.
12 Mile - $45.00 (4 to 6 hours) Limit two persons per canoe. No 12 mile trips after 2 pm.
Two-Day Trips
21 Mile - $80.00
25 Mile - $85.00
Cash, or checks. No credit cards. ATM now at C & M for your convenience. Ice, soda, frozen pizza available.
---
Ayers Landing Canoe Rentals
3494 E. 2089 Road
Wedron, Illinois
815.434.2233



Another canoe outfitter just minutes from Fox River Bed and Breakfast! Canoe trips on the beautiful Fox River.
www.ayerslandingandcanoerental.com
---
Vermillion White-Water Rafting
781 North 2249th Road
Oglesby, Illinois 61348
815.667.5242

Vermillion White Water Rafting offers three to four hours of white water rafting and kayaking adventures on the Big Vermillion River. Known for offering you the challenges of Class II and Class III rapids. Just 4 miles south of Starved Rock State Park off Illinois Highway 178. This is a great experience for beginning rafters and fun for anyone looking for a great time on the water! Only 30 minutes from Fox River Bed and Breakfast! For reservations contact raft master@aol.com
www.vermillionriverrafting.com
---
Skydive Chicago
3215 E. 1969th Road

Ottawa, Illinois 61350

815-433-0000

Make your first sky dive at Skydive Chicago! Chicagoland's Premier skydiving facility. Skydive Chicago offers the best in tandem sky dives and is one of the best drop zones in the world! Tandem jumps are unsurpassed for someone wanting to experience it all in one jump. After a training class, you will be harnessed to the front of a fully-licensed tandem instructor. A twin engine Otter aircraft will take you up 13,000 feet, where you and your tandem master will exit. After falling for one minute at 120 MPH you will pull the handle and your parachute will open. After that you will enjoy 5 - 7 minutes of breathtaking views of the earth as you descend safely to the ground.
Watch Charlotte's skydiving video!!!
---
Fox Valley Off-Road
1952 N. 35th Road
Ottawa, Illinois 61350
815-431-9913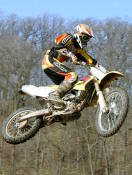 The Ultimate Off-Road Experience!! Just down the road from Fox River Bed and Breakfast! Fox Valley Off Road in Wedron, Illinois is a subsidiary of Moto Pro, Inc., that also owns Megacross.com. Fox Valley Off Road is a OHV riding park with a few events. Open Saturdays and Sundays from 10am - 5pm, weather permitting.
---
Concept Haulers Motor Speedway
3674 East 2603rd Road
Sheridan, IL 60551-9592
815. 496.2467

Concept Haulers Motor Speedway located in Norway IL. is your full service kart shop. Whether you're just getting started or a seasoned race veteran, we can take care of you. Don't own a kart? Our Rental Racing, Group Outings, and Driver Academies make you a racer without the investment! Call to schedule a custom program to suit your needs. Just 8 miles from Fox River Bed and Breakfast!

Monday - Saturday 10am-dark
Saturday Raced day!
Sunday 12pm-6pm
www.concepthaulersmotorspeedway.com
---
Pine Hills Golf Club
67 North 2501st Road
Ottawa, IL 61350-9351
815.434-3985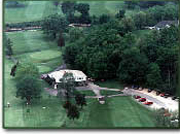 Pine Hills Golf Club is located 1 1/2 miles South of Ottawa, Illinois...Just off Route 23. It is a challenging 9-hole course and one of the most scenic in North Central Illinois. This beautiful course gives meaning to the phrase.." Golf as it should be! " Designed by Thomas Bendelow (designer of the famed Medina and Olympia Fields, Illinois) and opened in 1924. It is well known for its natural scenic beauty! Only 8 minutes from Fox River Bed and Breakfast!
---
The Bourne Golf Course

2359 North 35th Road
Marseilles, IL 61341-9509
815.496-2301
| | |
| --- | --- |
| | This truly is one of the most interesting golf courses in Illinois! The Bourne is an exciting 18 hole regulation course located at the The Bourne facility in Marseilles, IL. From the longest tees it offers 6,355 yards of golf for a par of 72. The course was designed by Dick Wherli and opened in 1990. The course rating is 70.0 with a slope rating of 123. The course contact is Dick Wherli, Owner. |
---
Foothills Organics
131 East Church Street
Utica, IL 61373
815.667.4700
| | |
| --- | --- |
| | |
| | |
Enjoy some of our best local organics at Foothills Organics! They offer a variety of fresh grown and produced organics ranging from honey to cosmetics, coffee, cookies, even massages can be arranged. Music and art classes, Tai Chi and Yoga. Come and get your first-visit free organic cookie and enjoy an enlightening and friendly conversation with Gerard and friends.
---
Illinois River Winery
723 S. Clark Street
Utica, Illinois 61373
815-667-4012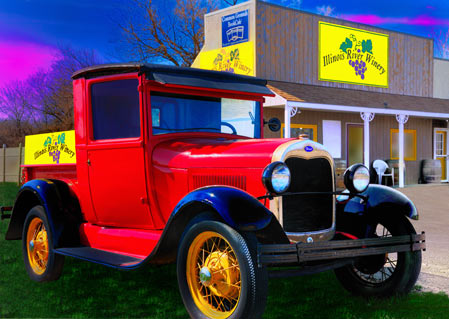 Tour one of Illinois largest wineries and learn how wine is made from start to finish! Free tours are available on Saturday afternoons at 1,2,3 and 4 pm. Meet at the Tasting Room to start the 20 minute tour. Children welcome! Wine tasting available. Also try the blush that won the gold in the U.S. and Silver in the world!! We are very proud of this accomplishment!
---
August Hill Winery Tasting Room
106 Mill St.
Utica, Illinois 61373
815.667.5211
Fax: 815.667.5247

We hope you will join us soon so that you can see and taste for yourself why we are so proud of August Hill Winery! Take a look and enjoy all of our individual creations presented within the tasting room, including vibrant hand-blown glassware, exuberant and vivid abstract paintings, woodworking, pottery, jewelry, artisan cheeses, gourmet chocolates and more.
e-mail: info@augusthillwinery.com
Hours of Operation:
Friday - Saturday: 10am - 8pm
Sunday: 11am - 5pm
Monday - Thursday: 10am - 5pm
CLOSED for the following holidays:
New Years Day
Easter Sunday
Thanksgiving Day
Christmas Day
---
Washington Square
Downtown Ottawa, Illinois
| | |
| --- | --- |
| | Walk where Lincoln walked! Hear the echoes of a memorable speech that catapulted him to national prominence! The date was August 21, 1858, and tens of thousands of people gathered in Washington Park to hear Senator Stephen Douglas and his upstart rival, Abraham Lincoln, in the first of seven debates! Only 8 minutes from Fox River Bed and Breakfast! |
---
Weber House and Garden
1503 Baker Street
Streator, IL 61364-1323
815.672.8327
| | |
| --- | --- |
| | The Weber House is a storybook, Tudor cottage sitting in a beautiful English garden of meandering paths, Foxglove, Hollyhocks and old oaks. Located in Streator, IL just minutes from Starved Rock and downtown Ottawa! Only 25 minutes from Fox River Bed and Breakfast! |
---
Reddick Mansion
100 West Lafayette Street
Ottawa, IL 61350-2108
815.433.6100
| | |
| --- | --- |
| | Constructed in 1858 by former LaSalle County Sheriff and Illinois State Senator William Reddick for $25,000, The Reddick Mansion is the oldest surviving building in Ottawa's historic Washington Square. Today, Reddick Mansion is open for tours, and houses the Ottawa Visitors Center, a stop which all LaSalle County visitors are encouraged to make. There, the staff will assist visitors with information on all of Ottawa's other historic sites! Only 8 minutes from Fox River Bed and Breakfast! |
---
Winter Activities
There are many winter activities from snowmobiling, to cross country skiing, ice fishing, bird watching, scenic ice caverns and more all within minutes of Fox River Bed and Breakfast!
Bird Watching
Watch all wildlife throughout the area, and in late winter-early spring its "Flock to the Rock" Come and watch eagles soar over the Illinois River at Starved Rock. www.flocktotherock.com
Snowmobiling
Trails along the I&M Canal or other areas designated for snowmobile enthusiasts. At the current time, we do not know of any snowmobile rentals available in the area.
Cross-Country Skiing and Rentals
Matthiessen State Park, Utica, Illinois (815) 664-2484 Cross-Country Skiing is available on weekends, December through March. 6 miles of trails are open, but are probably not groomed. Ski, pole, and shoe rentals $12.50, cash only ~ no credit cards. Call the park for the latest snow conditions. Outdoor toilet.

Ice Caverns
Hike and explore the beautiful ice caverns throughout Starved Rock State Park during the winter!