About Us
Charlotte Beach, Free Spirited and Full of Life!!
Charlotte is originally from Virginia, and has been running Fox River Bed and Breakfast since 2007. It has become her mission to preserve the beauty and history of the Wiley-DeBolt family farm and home. Charlotte is also a Registered Nurse, and many of her clients are decendants of the family, and is compiling information about the family and the history of the surrounding area. Charlotte has travelled throughout most of the the United States and England, and loves nature and the outdoors.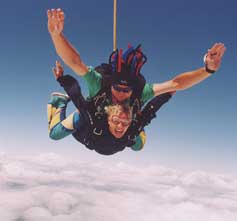 Her kind nature and gentle spirit is refreshing, and she loves sharing the beauty and the history of the area along with her experiences with the guests that visit from all over the world. Charlotte has one son, who is a recent graduate of Virginia Tech with a degree in Building Construction and Design. Her passions include horseback riding and training in Dressage, Stadium Jumping, Cross-Country and trail riding. She also loves to cook, and will delight you with some of her recipies from her extensive collection. Charlotte hopes that your visit to Fox River Bed and Breakfast will be relaxing, peaceful, and a time of renewal.
This is a picture of Charlotte taking her first tandem sky dive at Skydive Chicago, just minutes away from the B&B!!

Watch the VIDEO!!!