Hill Billy Directions
If You are coming from the East or Chicago/Milwaukee/St. Louis area, make your way to I-80. You will want to find exit 93 on I-80 no matter where you are coming from. Interstate 55 will get you to I-80 from Chicago/Milwaukee/St. Louis areas. From I-55 and I-80 intersection, head West towards Des Moines..
As you travel along I_80, look for this sign:
Exit there and pull up to the stop sign. Make a right hand turn onto 71 towards Oswego, not Ottawa. (Left if you are coming from Des Moines/Quad Cities) Look at your odometer reading. Figure you will travel about 2.7 miles before you see these signs:
This one first:
Then this one:
Make a left turn at the sign above and right away you might feel like you are in the country cause you're gonna see this sign below: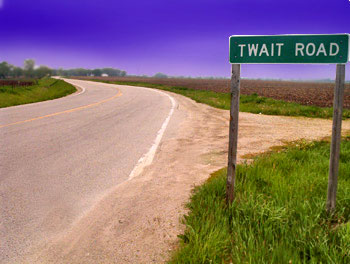 Pay your tributes to "TWAIT" Then, just stay on the black top for about 1.7 miles and be looking for the C and M Canoe Rental sign below:
Turn Left at this sign and go about 100 feet looking to the left and you will see another road on the left that will get you right here to us..
We don't have a sign, so you wont see one. Just look for an inn in the middle of nowhere that looks like this:
There is nothing else around.. See Ya here!!