Guest's Feedback
---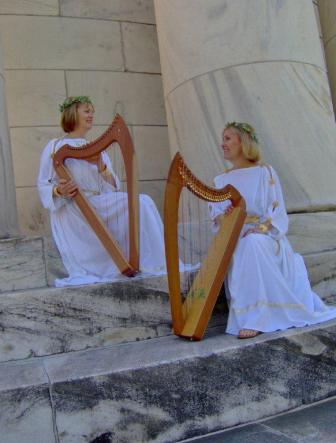 "Quiet, Beautiful and Comfortable"
If you are looking for a lovely place to stay that is quiet, beautiful, and
comfortable with a gracious innkeeper, you need look no further! Five
stars all the way! We stayed here on our way to a Harp Therapy
Conference in Iowa and to see Field of Dreams.

Sarah Schwartz and Melanie Brown, Certified Therapeutic Harp
Practitioners
August, 2012
Sarah G. Schwartz, BM, CTHP, Graduate work in Field of Education
1110 Merimack Circle
Medina, OH 44256
Phone: 330-723-5474
---
First Time at a Bed and Breakfast

"When I first came to Fox River B&B, I didn't really know what a bed and breakfast was. All I knew was that I had just graduated college and wanted to take a little trip.
I saw that Fox River B&B had a room that was less than the lodge at Starved Rock, and it had better ratings than all the motels in the area. But to tell you the truth, I was a little worried that a B&B would be too uptight or too fancy for my taste.
However, once I had stayed at Fox River B&B for a couple nights, my fears were calmed and my perceptions changed. By the fourth night, we didn't want to leave. The room was very comfortable, and the hosts were very friendly. They made us feel right at home, and the room almost felt a little familiar once we were settled in there. I have to admit that I am very glad we didn't shack up in a motel somewhere. Our room was very clean, and it felt like our room while we were there…not a generic (and often dirty!) motel room we were renting. Not only that, but our hosts were very helpful about giving advice on where to eat and which souvenir shops to visit. They really know the surrounding towns and businesses very well.
The whole house had character, including the room we stayed in. But I'll have to say that the greatest characters of all were our hosts. They were extremely hospitable and honestly down-to-earth people. Before coming to their place, I was a little apprehensive about staying in "someone else's" house, and I was worried the hosts of a B&B might look down their noses at us for bringing all our own food and a microwave. However, they were very flexible and totally cool with whatever we wanted to do, as long as we had a good time. After an evening of hanging out and chatting with the two of them, I found both of them to be very fun, open minded people with a yearning to get to know and make their guests comfortable."
Thanks again….our stay was great!
-Gary J. Teune - Chicago January/2006
---
Scrap Booking
Dear Charlotte:
Thanks again for having us for our Ladies' scrap booking get-away!
You have a charming and comfortable home there, and we appreciated your warm hospitality. We also were impressed by the delicious breakfasts, especially the yummy apple pancake. : )
We slept well at your B & B, and enjoyed warm mugs of tea from your kitchen while scrapping and talking.
Thanks also for recommending Hank's Farm Restaurant to us for dinner. We had a lovely dinner there too.
I hope to come back and visit again in the future. Keep up the good work!
Sincerely,
Maggie May, Dubuque, IA
September 24, 2011
---
"The Best Scrapbooking Weekend!"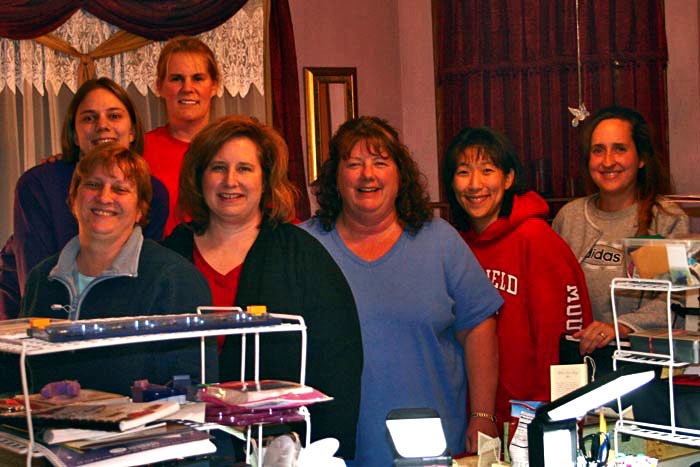 I can speak on behalf of our whole group when I say thank you so very much for the BEST scrap booking weekend our group "The Mad Scrappers" have ever had!!! A big THANK YOU to Charlotte from Christa, Deb, Diane, Kathy, Deb, Tyann and Cyndi! This was, by far, the BEST weekend -- lots of laughter, good company, excellent food, and a beautiful home! Charlotte made us feel pampered the minute we set foot in the B&B. Charlotte made sure we were comfortable at all times. It was very hard for us to go home and get back to reality! We enjoyed your company, your stories and your awesome food! We would highly recommend Fox River Bed & Breakfast to anyone! We're looking forward to future scrap booking weekends with you! My husband thanks you for the awesome tamales and the homemade salsa-- he doesn't want to share them with anyone!
Kathy Mulhall and friends
April, 2007
---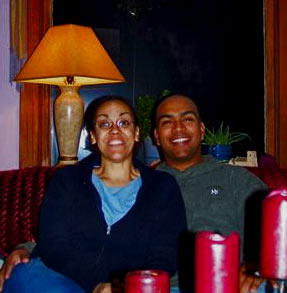 To all future guests planning a stay at Fox River Bed and Breakfast: My wife and I would like to tell you of the wonderful time we spent there.
Fox River B&B was just what we expected; a traditional old fashioned place to get away from the 9-5 and relax in the company of good people. The hosts were very fun to be with and very informative about the history of the surrounding areas. My wife Rosa and I are planning a return trip this summer.
It may not be a five star hotel, but the warm open hospitality was ***** for us!!
Thank you from Laymon and Rosa Kelly January/2006
---
"Loved It!"
We just returned from Fox River Bed and Breakfast and loved it! My husband and I with our daughter, son-in-law and our granddaughter stayed this last weekend at the B&B. We needed to get away for a weekend which would be within a two hour or less drive from Chicago & Northwest Indiana. This was perfect!
Maria took the time to call me to give me the directions to the place. She also greeted us when we arrived and made sure we was comfortable.
On Saturday morning, we had breakfast tacos and they were great! This was the first time I had a taco breakfast and it was all it was advertised to be and more. On Sunday, Maria made us her English Breakfast and that needs to be on their advertisement...Wonderful!
Also while we ate on Sunday, Maria made oatmeal and coffee for another couple and served it to them in their room. I have never stayed at a B&B that has given this kind of service.
I truly recommend this B&B. You won't be disappointed.
Don and Jean Williams March, 2006
---
THANK YOU so much for everything! I had a great time, a great research trip, and out-drove the snow in about two hours – leaving it behind just south of Chicago or so. All in all, I was amazed at the phenomenally good weather I had for end of Feb/early March.
In any case, I plan to get out queries this month, and will send you copies.
Thank you SO MUCH for your generous hospitality. As soon as I have a feel for travel dates, I'll let you know (I am thinking I will come back and stay again between mid-June and mid-August when Roxana is out of school).
Trudy Bell..Writer/Editor...Ohio
---
I am enclosing the rest of the pictures Art took at your BNB in January.
I hope you enjoy the pictures. We think they are beautiful. You live in a wonderful area.
It is beautiful here. The tulips are about 3-5 inches above the ground. The daffodils are about 5-6 inches tall and have some buds on them. The robins are all over the area and the females look fat with eggs.
I hope things are good for you at your bed and breakfast. We are looking forward to seeing you this summer. We hope everything is going well for you.
Sincerely,
Betty and Art Des Plaines, IL March 25, 2006
---
Thank you again for a much needed night of being away from anyone else's needs. It was fun to sit on the porch with all of you, watch the storm, and have a few too many beers in a place where I felt safe and comfortable. If you do a mailing list for events and specials, please add me. Hope I can make it out again soon.
Bobbie P Craigslist Fan April 14, 2006
---
"I Would Recommend Fox River Bed and Breakfast to Anyone..."
The Fox River Bed and Breakfast was a welcome surprise to myself and the group of ghost hunters that I brought with me to enjoy the weekend. Not only was the historic house more than we hoped for but the grounds, grotto and surrounding woods were fascinating to all of us with an interest in the history and mystery of Illinois. I also wanted to add that the hosts were gracious and wonderful and they went out of the way to make sure that everyone was happy and comfortable and had plenty to eat from the huge barbeque that we had around the campfire at sunset. I would highly recommend the Fox River Bed and Breakfast to anyone looking to "get away from it all" and to discover some of the forgotten elements of the Illinois River Valley region."
Troy Taylor, Bump in the Night Tours April 25, 2006
---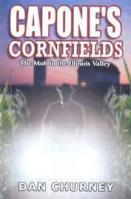 Fox River Bed and Breakfast has it all — gangsters, great scenery and Charles Lindbergh! Nestled at the edge of a woods near the Fox River, the beautiful, old historic house (built in 1901) is a cozy, out-of-the-way retreat with a charming host! Just behind the property is the old St. Joseph's Health Resort, which drew Chicago mobsters in the days of Al Capone. In fact, if Big Al was around today, I'm sure he'd pack his Tommy Gun into a violin case and make a beeline, not to St. Joe's, but to Fox River Bed and Breakfast!
Dan Churney Ottawa Daily Times
You can find Dan's excellent book titled " Capone's Cornfields" on-line or in bookstores. It's a great read!
---
"Rooms are Clean and the Food is Delicious"
We had a wonderful time at Fox River Bed and Breakfast! If you are looking for a getaway in the country with a comfortable place to eat and sleep, don't look any further! The B&B is beautiful, close to the river, rooms are clean and food is delicious!
Fox River Bed And Breakfast is just minutes away from the most beautiful Starved Rock National Park. We are Lithuanians and I can only imagine celebrating Jonines there with friends and family: all day of hiking and fishing and spending the rest of the evening by the fire with good conversation, folk music, greasy Lithuanian food and few beers. Room rates are crazy inexpensive anyone can afford that. The house is on 17 acres and there could be plenty of place to search for that magical fern bloom- paparcio ziedas.
These are some special guests that bartered beautiful perennials for a stay from Craigslist.. Thanks Craigslist fans!!
---
"Highly Recommended!"
This place was phenomenal! My fiancé and I originally came to camp, but then ended up staying in one of the rooms once it started to rain! The hosts were gracious in welcoming us into their home. The best part about this place is that the hosts really know the history of the area. Hearing them tell the tales of Al Capone's hangout, the Sulfur Springs, and the Stations of the Cross was very exciting. We enjoyed a walking tour of the area, explaining everything. We had a wonderful time - this place is highly recommended!
Jackie Aicher Mt. Prospect, IL
---
"The Perfect Escape!"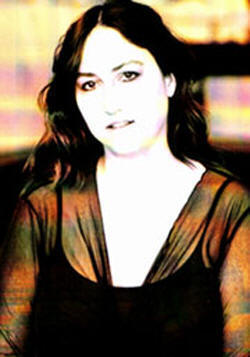 I desperately needed to get away from my busy Chicago lifestyle. Fox River Bed and Breakfast was the perfect escape! The wonderful hosts hospitality helped me to totally relax. From the moment we arrived, I felt at ease in the peaceful surroundings and comfortable home. My 3 year old son went wild over the open spaces and fresh air!
My room was great – I haven't slept so comfortably in ages. Large guest rooms, huge closets, nice furnishings, and refrigerators mean you can relax in your room without having to leave.
The upstairs bathroom is amazing! So big and refreshing. The claw-foot tub was so large. I enjoyed a fantastic bubble bath by candlelight.
The food was out-of-this world!
The area is great too. An easily accessible vacation spot, we found many low-key enjoyable activities. We spent an afternoon at the local pool, which had a huge water slide. We walked around the town of Ottawa and enjoyed the local shops. We hiked around Starved Rock and even visited some exquisite wineries. I recommend August Hill Winery.
My son enjoyed the nearby pig farm, where he got to pet pigs in a variety of sizes. Maria took us to visit some local horses, too. Next time we might consider riding horses at a nearby horse farm.
Hard to believe Fox River Bed and Breakfast is so close to Chicago, yet made me feel like I was so far away from the rat-race of my daily life. I can't wait to go back!
Dawn Ferencak, Artist July 14th, 2006
---
"I Can't Imagine a Better Way to Listen to Live Music."
Listening to musicians in the comfort of ones living room with the ability to really "connect" with an audience. Unique and revolutionary!! So, my friend David Hoffman (who spent many years playing with the great Ray Charles) and I decided to give performing in this unique venue a shot and it was great. The B & B guests loved the music and following the performance, they had many questions about all the exotic instruments we play, our 14 albums, and of course Ray Charles.
Being an aviation buff, I was tickled to have stayed in the same room Charles Lindbergh slept in when he bailed out of his plane in 1926. Imagine sleeping in the same room as that great pioneer!!
The house was a cool piece of history and the hosts were great. Now the breakfast - ah, that was great. Never had Tea and Crumpits before. Yum Yum!! Why don't all Bed and Breakfasts offer something like this?? I can't imagine a better way to listen to live music. Hope we'll be back!
Paul Adams
David Hoffman October 7, 2006
www.pauladams.org
www.davidhoffmanjazz.com
ppaulpadam@aol.com

Paul Adams - Lakefront Music
---
"A Big Thank You"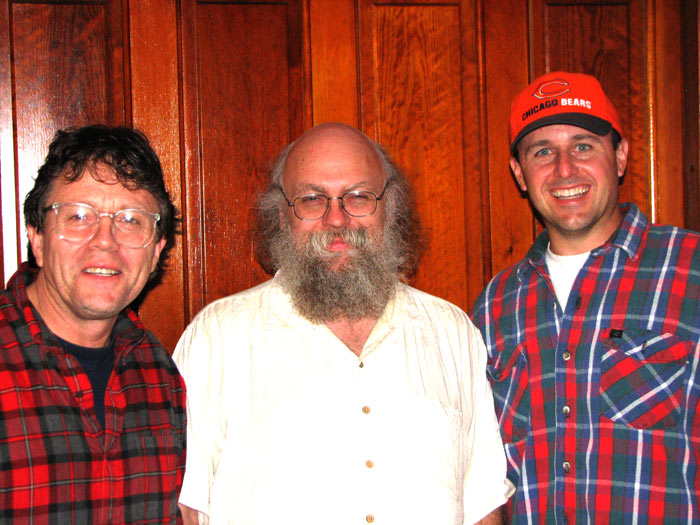 I was horribly negligent in not sending you a great big thank you for the visit we had to your property. My wife and I and 2 kids stayed in the camp site out back and that October visit was unforgettable. The weather was incredibly mild for that time of year, which was nice since we forgot the rain fly to our tent, but it was the evening with Paul Adams and David Hoffman that was priceless. I've told so many about the crazy combination of sleeping out under the stars and our rustic weekend combined with an evening in a living room listening and talking to two musical greats. I was awestruck by their talents and honored to be sitting in such a small group with them playing just for us. It was incredible as I felt like a kid meeting Santa Claus getting pictures with them at the end of the night to remember my good fortune. I can't tell you how much I appreciate your warm welcome and great generosity in sharing that wonderful experience with us. T he camping was a pleasure, but I honestly look forward to coming back and listening to more music while enjoying the indoor comforts of your B&B.
Thanks again, Michael Baldwin October 7th, 2006
---
"Thank You!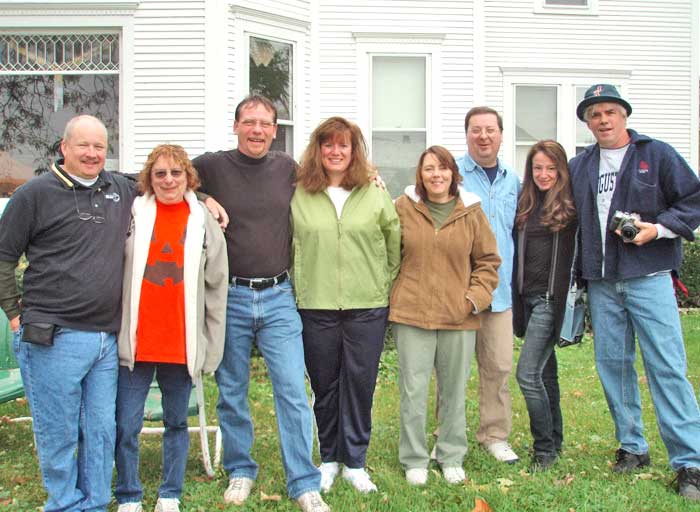 Hello! I just want to thank you again for the lovely time we had at your B & B. I have attached the picture of all of us.
Thank you so much!
Carol & Mark October 14th, 2006
---
"Wonderful Weekend"
I just wanted to write a short note to thank you for a wonderful weekend, and for really making our stay very enjoyable.
I have recommended your bed & breakfast to many people and have raved about what wonderful hosts you are, as well as fantastic cooks!
Thank you for everything, and we will definitely see you again.
Regards,
Candy Dedner October 28, 2006
---
"Wonderful Hospitality"
We arrived at Fox River B & B for the first time recently and were immediately made to feel at home. Within a short time we were relaxed and at ease, so much so that our planned short trips to explore the surrounding area were completely forgotten until it was time to go to the restaurant for a late dinner.
The wonderful hospitality shown us made us feel right at home. It was a pleasant surprise to find such a tranquil spot for a weekend of relaxation and celebration. As a consequence, we made the easy decision to stop our hurried approach to the week-end and spent much of our time relaxing and enjoying the quiet together. We had a great time meeting new people, both young and more mature whom we now call friends. The conversations sharing past experiences were a delight and will be remembered.
David & Genevieve McIntyre
Manteno, Illinois
November 4-5, 2006
---
A great place to relax and enjoy great company and conversation! The breakfast was fabulous! A wonderful place for a spiritual retreat!
Anita Margarita in Tinley Park
November 11, 2006
---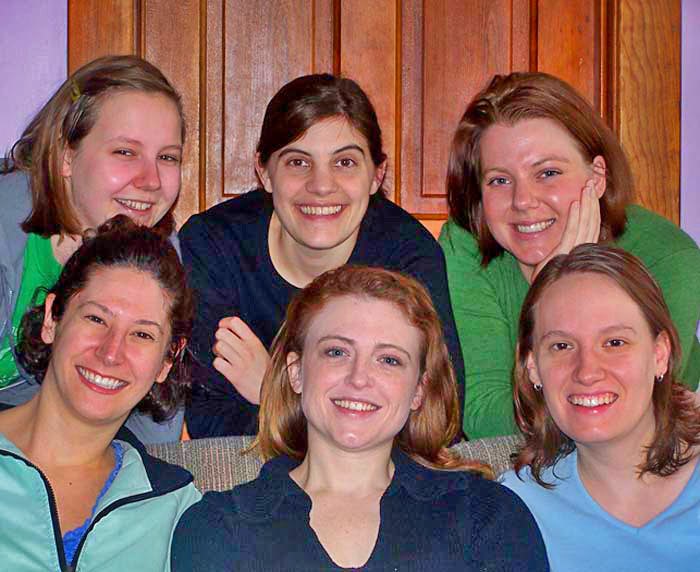 Jackie, Kim, Laura, Lisa, Kristen and Katie on their Annual Girls Weekend Away. January 7, 2007
---
"Have a Blast!"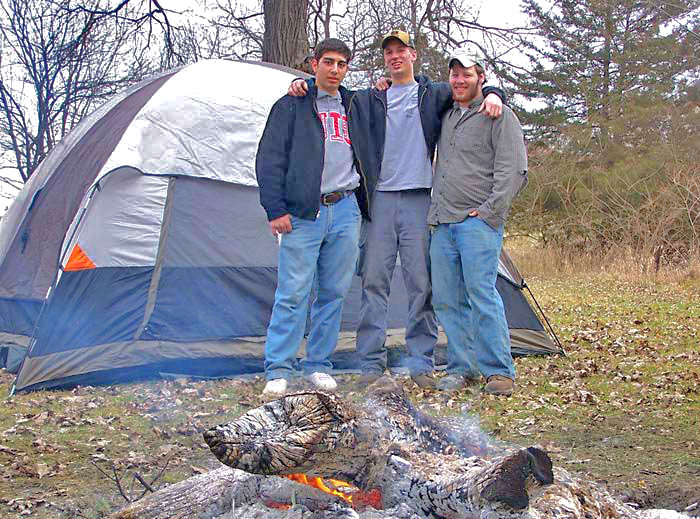 "Every time we camp at your place, we have a blast! Great services and food, always fun to be able to kick back and relax. So much stuff to do, you can stay a whole week"
Eric Case and Friends January 7, 2007
---
Dear Charlotte,
Thank you for the wonderful visit, terrific hospitality and awesome food! I'm attaching the pictures I took. Feel free to use them on the web site.
The three days we spent with you were quiet and relaxing. The weather was damp and cold, but the hospitality was warm and caring. We enjoyed the good conversation. Charlotte's banana bread was yummy and the breakfast burritos and Huevos Azteca delicious. Thanks for the "Scooby snacks!"
It was great to get away from teaching for a while. I will highly recommend your B&B to everyone. If I had to grade Fox River BNB, it would look like this:
Cleanliness: A+
Friendliness: A+
Hospitality: A+
Breakfast: A+
Conversation:A+

Sincerely, Stewart and Garris Graham
Urbana, IL April 2007
---
"Comfortable and Welcoming!"
Dear Charlotte ,
Thank you so much for your relaxing hospitality! We have thoroughly enjoyed staying at your B&B and we are happy to have gotten to know you! The breakfast was the best we have ever had!! Everything was so comfortable and welcoming! We'll hope to return and send our friends. Good luck and all the best!
Thanks again!
OBA SSKZM April, 2007
---
"Awesome Weekend!!"
Dear Charlotte,
Thank you so much for the awesome weekend!!! The breakfast was delicious! I enjoyed staying in the tribal room, BEST room in the house, great decorations!! You have a great location with so much to do! The canoe trip down the Dells of the Fox was so fun and relaxing. The trip to Starved Rock was beautiful!! Thanks for a relaxing weekend!
Katie
Blacksburg, VA, May, 2007
---
"It Was Amazing"
Charlotte~
Well, were back in the race, and I'm back in my cubicle. I know, it sounds depressing, but I'm trying my damndest to get out. You see, I'm a teacher originally, but somehow I got myself in this corporate world that I now realize is not for me.
Anyway, that was the first "vacation" I've had in a long while, and it was amazing. I'm still feeling the effects of sleeping outside. When you asked me what I liked about the camping, I like not having a lot of excess baggage, the fresh clean air, the sounds of birds and frogs and other critters, the mud between my toes, not looking in a mirror, no phones, TV, or computers, and in general, the simplicity of it all.
So, I'm recommending your fine establishment to certain people who will appreciate it.
I wish you all the best and Ashok, Meera, Mike, and I thank you for your kindness and hospitality!

Your Friend,
Sunita

P.S.
Here's a link to Ashok's music. Enjoy the rock!
http://www.myspace.com/ashokamusic
---
"The Whole B&B Rental is the Way to Go"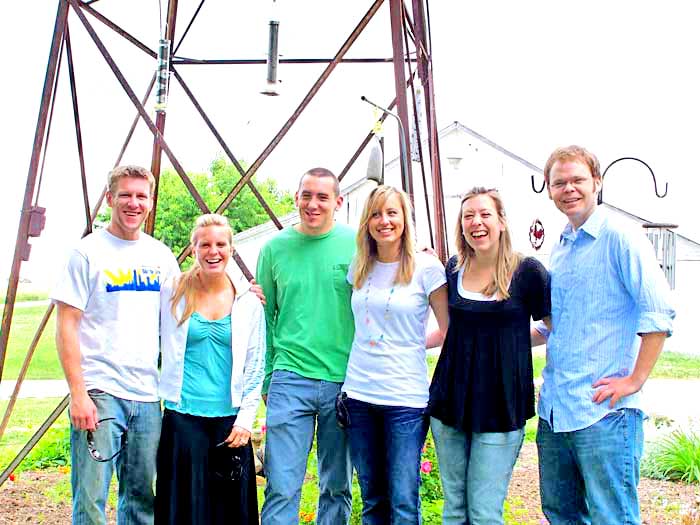 I appreciate all of your help planning the trip. It is nerve racking trying to please a group of 10 Chicagoans, but you helped make it a hit! The Whole B&B Rental is the way to go. It was clean, with large rooms, nice linens, and in the country. The hot sweet rolls for breakfast were a hit.

We stayed busy with rafting, dinning in Ottawa, and camp fires. Everyone left feeling great that we had an outdoor experience with the benefits of a cozy Inn. Hope to see you again soon.

Thanks for all of your help,
John
---
"A Weekend We Won't Forget"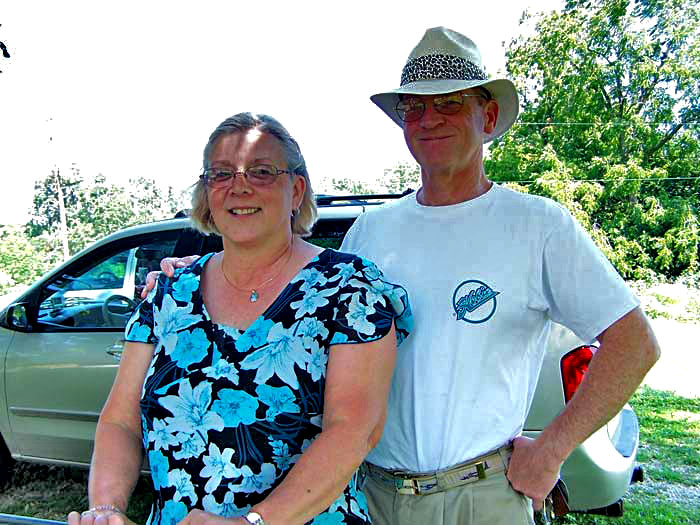 Dear Charlotte,
One more "thanks" for last weekend. We found your country home to have nicely decorated rooms, fresh and ample breakfasts, and a relaxing ambiance in an area with many activities and great scenery. In fact, that's what all high quality "B and Bs" have, but other inns pale in comparison because they don't have the sweet Miss Charlotte as their host! Before we left, we even got to see the new piglets :) It was truly a weekend we won't soon forget!
Thanks for the fun and relaxation, Karen and Jim Profitt
Goshen, Indiana
July 28, 2007
---
"Thanks for Everything!"
Just wanted to e-mail & say again how great of a time we had over the weekend. You can count on us being regulars. We were thinking that being there for the ghost hunters would be cool. Let us know if it`s possible. If the rooms are all taken we could camp. We are telling everyone we see how much fun we had. We may even have a few friends who may join us next time. We will definitely be in touch soon. Thanks for everything!
Scott & Chris Spencer August 11, 2007
Marseilles, Illinois
---
"It Felt Like Home..."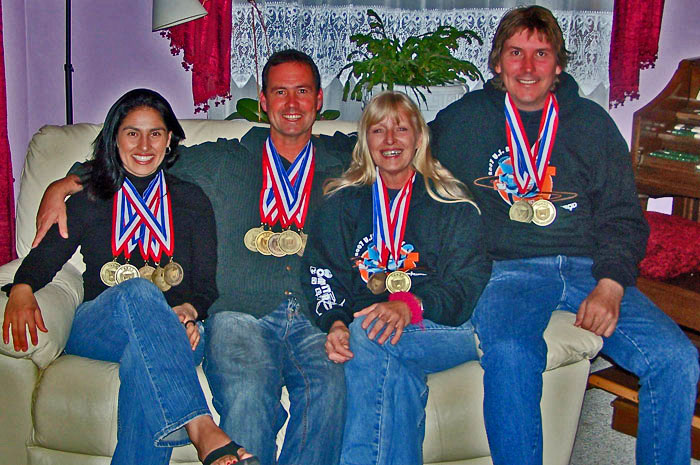 Dear Charlotte,
Thank you for an awesome week! Below is our team group shot of all of us that stayed with you during our National skydiving competition where we won the 4-Way, the 8-Way, the 16-Way, the 10-way and the grand Cahona. We took it all!! Got a broom? I felt like home during our stay and it felt like we were with family. We all appreciated your breakfast delivery out to the drop zone. That was the ultimate! Come and see us in Arizona if you get the time. You are always welcome.
Craig Girard
Arizona Airspeed
Casa Grande, Arizona
P.S. Hugs :) September14, 2007
---
"Great Scrapbooking Weekend!"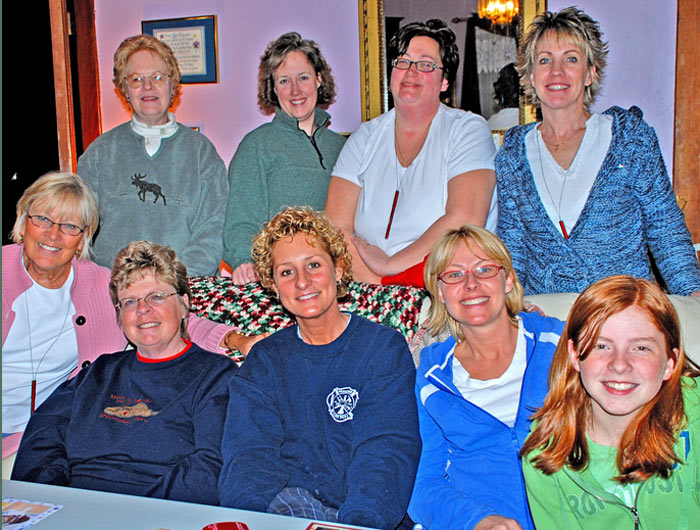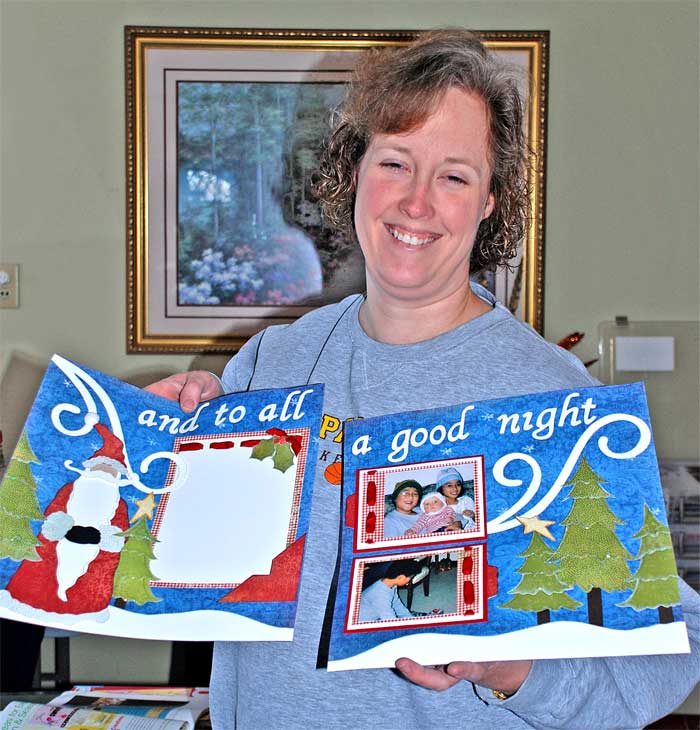 Hello Charlotte!

I just wanted to thank you for such a GREAT scrapbooking weekend! We all had such a good time and enjoyed ourselves so much! Thank you for all of your hard work and wonderful company. We are already excited about the next one! Please put us down for the weekend in September that we discussed. Thank you, again, so much. Take care, and we will see you soon!

Sincerely, Debbie Daly February 29 - March 2, 2008
Hi !
Our scrap booking weekend was a huge success thanks to your great hospitality. The food and accommodations were outstanding. A fun time was had by young and old alike. Can't wait until the next one.
Jenine Vaslie February 29 - March 2, 2008
---
"Wonderful Stay"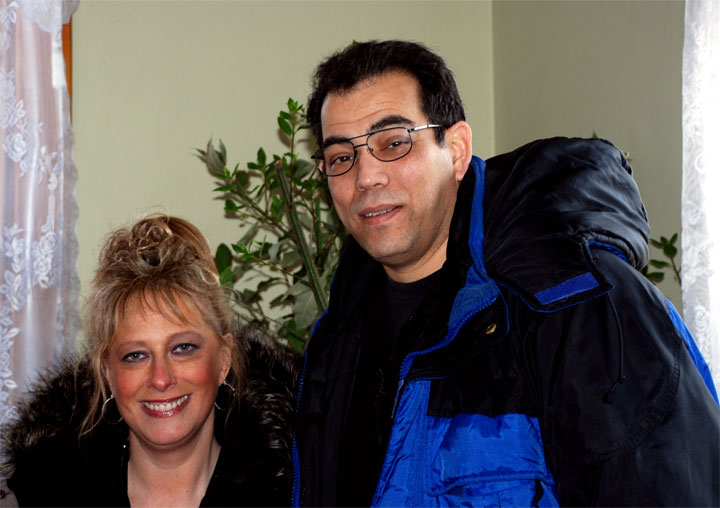 Both myself and Mari had a wonderful stay, and would definitely return again. The room was very nice, and the added thrill of the chickens added to the rural aspect of the location, which was very relaxing. Sorry it took a while to get back to you but it has been very busy at work lately. Take care!

--
Ricardo Rodriguez
Senior Field Engineer
---
Dear Charlotte, Al and I want to thank you for your warm and welcome hospitality. Your home has such beauty and character. The breakfasts were great! Keep holding onto your dreams and with all of your hard work, they will come to fruition. Hope to see you again someday!
P. S. You have such a sweet spirit....
Al and Sandie
July, 2008
---
Hi Charlotte! Thank you for taking such good care of us during our scrap booking weekend! The food and accommodations were wonderful. I'm hoping you enjoy the enclosed cookbook. We use it a lot!
See you in March!
Judi S
September, 2008
---
Dear Charlotte ~ I just wanted to thank you again for the amazing stay my sister and I had last weekend. Deb and I felt so welcomed in your home and loved every minute we spent there. I hope that I will get the change to visit again very soon. Thank you! It was the perfect place to spent my birthday!
Melissa C
September, 2008
---
Charlotte ~ This comes late, but I wanted you to know that we truly enjoyed our stay. you were a wonderful host and the home is beautiful, warm and welcoming. I hope that we get an opportunity to come and stay again!
Sincere thanks,
Kelly J
October, 2008
---
Dear Charlotte ~ Thank you so much for your great hospitality this past weekend! We really enjoyed our stay and cannot wait until we make it back. Thanks for making our first B&B a great experience!!!
Michael & Jordan
July 27, 2009
---
Hi Charlotte ~ Thank you for a wonderful weekend! Mathew and I had a lovely time! The B&B is gorgeous, the history very interesting, and the breakfasts were superb--Mathew was telling some of our friends last night about your cranberry/orange muffins and breakfast casserole!
It was a great discovery--we will certainly be back, and I will be telling my family and friends to stay at Fox River B & B during their future visits to the area.
Thanks again. All the best,
Laura
April, 2011
---
Dear Charlotte ~ Thank you for making our family reunion such a success! I am glad that you were a part of our weekend. Your hospitality and the comfort of the historic B&B enhanced a wonderful occasion. We will be back someday, I'm sure!
Kevin H
May, 2011
---
Hi Charlotte ~ I wanted to say thank you again for such a great weekend! We really enjoyed our stay at the B&B. We felt very welcome and the breakfast was delicious! I hope we can return one day and we will definitely tell our friends!
Best,
Beth and Rian
June, 2011
---
Dear Charlotte ~ On behalf of Jeanne, Bob, and myself, I wanted to thank you again for such a wonderful experience at your B&B....we really enjoyed ourselves! Everything from the great rooms to your lovely breakfasts helped make our Christmas in July a rousing success. Thanks again for a lovely time! (We left you a container of cookies in the kitchen!)
Susan S.
July, 2011
---
Hey Charlotte ~I just wanted to say many thanks from Tara and myself, we had such a wonderful time at your home. We will definitively keep in touch and will be staying with you again (hopefully sooner than later)! See ya soon!
Your new friends, Chuck & Tara
October 1, 2011
---